Recipe – Caviar and Goat Cheese Deviled Eggs
Just a touch of caviar on top adds sophistication to both presentation and taste the deviled egg always needed. Combined with distinct flavor of goat cheese this gourmet hors d'oeuvres
This easy to make in advance d'oeuvre has been a favorite classic for those who love to entertain in style without an effort. It is also a great way to introduce caviar to those who never tried it before.
The recipe is quite simple:
Prep Time: 15 minutes
Cook Time: 10 minutes
Total Time: 25 minutes
Result:  12 pieces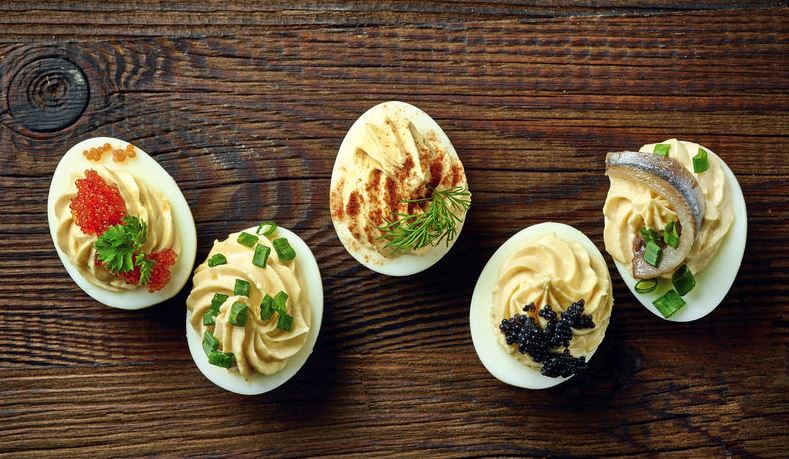 Recipe Ingredients:
6 large eggs,
2 tablespoons creme fraiche or sour cream
1/2 shallot, very finely minced (about 1 tablespoon), or to taste
2 teaspoons capers, finely minced
Salt and pepper to taste
1 tablespoon minced fresh chives or dill
Red or Black Caviar
Step 1
Hard boil the eggs (8min ). Put them under running cold water right after boiling – that will help to separate shell easily and will make the yolks appear yellow. Tip: for the egg whites look uniform after boiling, keep the eggs on the side the night before and place them carefully into simmering water not to disturb the yolk.
Step 2
After eggs cool down slice lengthwise. Scoop up the yolks and mash them in separate bowl, mix in goat cheese, sour cream, finely minced capers and shallot. Mix in herbs and sault and pepper to taste. Mash until smooth texture is achieved
Step 3   
Scoop the mixture of yolks and goat cheese and carefully place it back in the boiled egg whites. To avoid tipping keep the boiled whites on an even surface.
Step 4
Add a touch of red or black caviar on top. Tip: If you are preparing this dish in advance – keep eggs with stuffing in the fridge overnight, add caviar right before serving.
Bon appetit!
Recommended wine pairing: Pinot Grigio