Parmesan Crisps with Cream Cheese & Red Caviar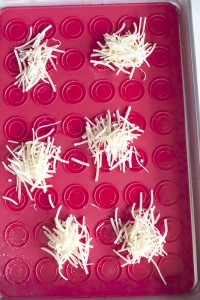 This fancy appetizer is usually offered on corporative parties or business networking's, but would make a great snack for any occasion – will it be birthday party or New Year Ev.
Making time is 5 minutes and it's a good "no-carb" alternative for French baguette or Russian blini with caviar.
You would need:
2 ounces of red caviar (small grain type – coho or sockeye)
½ cup shredded fresh parmesan cheese
¼ cup of crème fraiche or regular cream-cheese
How to prepare:
Preheat the broiler to 480-500 degrees
Prepare a flat baking pan or silicon baking mat
Drop 1-2 tablespoons of the parmesan onto your baking surface
Bake 5 minutes or until your parmesan bases become golden brown
Take out and let it cool, then separate with a spatula or wooden scapula
Put teaspoon of crème fraiche or cream-cheese on the parmesan crisps and about the same amount of caviar on top, and serve!